If you're participating, feel free to add our read-a-long banner! Also, provide your link below :)
Have questions about how this will work? Ask away! Here are some

common

ones.
Hop over to Margie's post to see more about the book Partials, itself.
Q&A
Question:
Will there be
challenges
and giveaways?
ANSWER: Yes
Question: Will there be discussions?
ANSWER: Weekly!
Question: WHEN will the discussion post go up?
ANSWER: Each Sunday we will post a discussion topic, where we can all sound off about what is going on in the book at that point. Did you read ahead? Don't spoil! But be sure to talk with us about the part we're all up to! The challenges are unannounced as of now. Want to help us out? Shout us a holler!
Question: What is the giveaway?
ANSWER: As for the giveaway, we're unsure what to give! Our next Read-a-Long is going to be Sept. 3rd, for Julie Kagawa's The Immortal Rules so, giving that book away is an option. What do you think of that?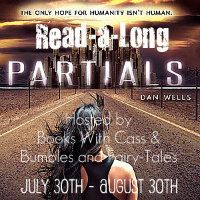 Dont forget to visit Margie! Bumbles & Fairy Tales